Influenza Surveillance
Influenza season has started, and the Medina County Health Department is beginning to complete a weekly influenza surveillance report prepared by  our epidemiologist. All data are preliminary and may change as more reports are received. These reports, along with quarterly communicable disease reports, can help inform your office of the impact flu is having on our community. If you have any questions about the reports, please call us at 330-723-9688, option 2.
Hepatitis A Statewide Community Outbreak
The Ohio Department of Health (ODH) and affected local health departments are investigating an increased number of hepatitis A cases in Ohio.  ODH has declared a statewide community outbreak of hepatitis A after observing an increase in cases linked to certain risk factors since the beginning of 2018.  Outbreaks of hepatitis A are occurring in several states across the U.S., including neighboring states of Indiana, Kentucky, Michigan and West Virginia.
Click here for the latest updates from the Ohio Department of Health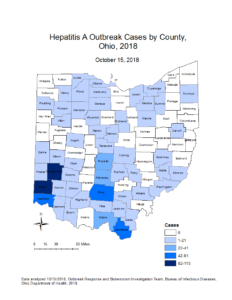 Acute Flaccid Myelitis (AFM)
CDC continues to receive reports of children with acute flaccid myelitis (AFM), a rare but serious condition. CDC is working hard to find the causes of these AFM cases. Learn more about AFM and symptoms that require immediate medical care.
Parents may be hearing about children in the United States who suddenly became weak in their arms or legs from a condition called acute flaccid myelitis, or AFM. This condition is not new, but the increase in cases we saw starting in 2014 is new. There are different possible causes, such as viruses, environmental toxins, and genetic disorders. AFM affects the nervous system, specifically the spinal cord, which can cause the muscles and reflexes in the body not to work normally.
Much more information is available from the CDC by clicking here.
At a Glance
CDC is concerned about AFM, a serious condition that causes weakness in the arms or legs.
From August 2014 through September 2018, CDC has received information on a total of 386 confirmed cases of AFM across the US; most of the cases have occurred in children.
Even with an increase in cases since 2014, AFM remains a very rare condition. Less than one in a million people in the United States get AFM each year.
While we don't know the cause of most of the AFM cases, it's always important to practice disease prevention steps, such as staying up-to-date on vaccines, washing your hands, and protecting yourself from mosquito bites.
Learn more about CDC's investigation of AFM.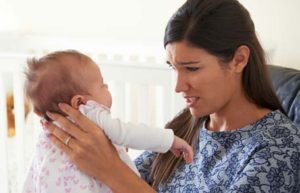 Resources from the 
Ohio Department of Health
Need FREE training AND 1 hour CME? Your public health nurses can help!
The Ohio Department of Health and the American Academy of Pediatrics, Ohio Chapter, have partnered with health departments to provide FREE training to you and your staff. I would love to come provide this opportunity to you and your staff. The following trainings take about one hour and you can earn one hour of continuing medical education credit for some of the trainings.
The following FREE trainings are available:
MOBI (Maximizing Office Based Immunizations) – A one hour training, including one hour of continuing medical education credit, focusing on pediatric immunizations and best practices.
TIES (Teen Immunization Education Session) - A one hour training, including one hour of continuing medical education credit, focusing on adolescent immunizations and best practices.
Impact SIIS Basic training (Statewide Immunization Information System)- Provides an overview of Impact SIIS, search/add/edit patients and vaccines, vaccine inventory, and ordering vaccines.
Impact SIIS Advanced Training- Provides instruction on changing patient ownership, reminder/recall features, fixing vaccine inventory, and common vaccine ordering problems.
Call Amy Lesak, BSN, RN at 330-723-9688, ext 625 to schedule today before available spots are taken.