The following graphs provide an insight into the status of COVID-19 in Medina County and highlights the work and response of the Medina County Health Department to control the spread of COVID-19 in our community.  These graphs will be updated weekly on Friday.
7-Day Moving Average Graph with Total Daily Case Counts

Figure 1 shows the daily confirmed and probable cases (blue bars) and the 7-day moving average (orange line) for new cases per day in Medina County.  The 7-day moving average helps to identify short-term increases and long-term trends in the number of cases. Data displays the most recent 12 weeks of cases
*Graph updated to reflect data to date for weekly Health Commissioner communication
Cases by Recovery Status (Released from Isolation, Existing Cases, New Cases and Deaths)

Figure 3 shows the number of confirmed and probable cases by recovery status.  Recovery status is broken down by cases released from isolation (recovered from illness), current existing cases, new cases reported for that day and total deaths. Total Deaths are cumulative. Data displays the most recent 12 weeks of cases.
Percentage of Deaths Nursing Home vs. Non-Nursing Home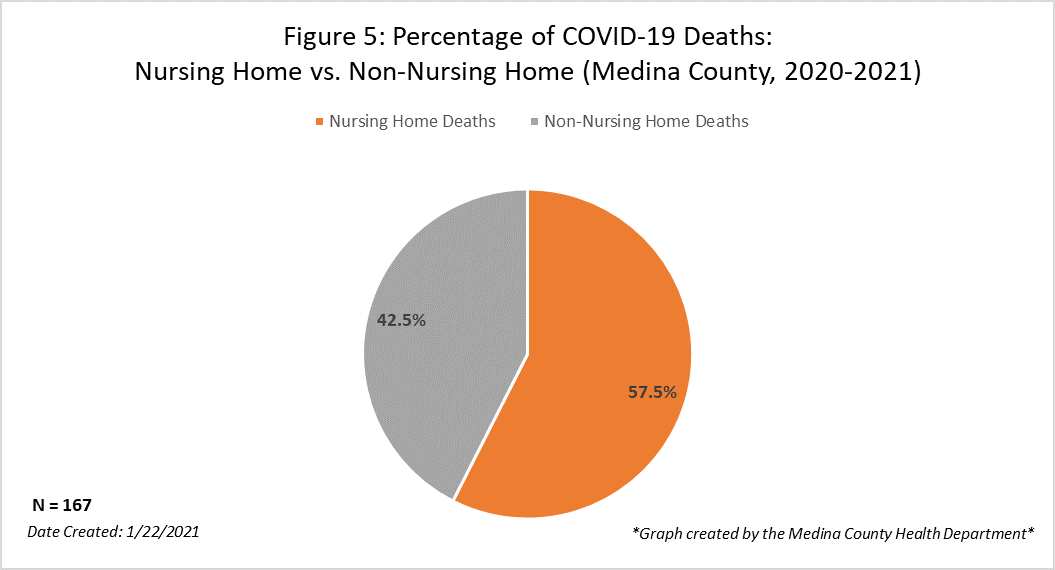 Figure 5 shows the percentage of COVID-19 related deaths by nursing home status.  Nursing home status is broken down by nursing home deaths (resided in a nursing home at the time of infection) and non-nursing home deaths (did not reside in a nursing home at the time of infection).
Definitions:
*Confirmed Case:  A laboratory positive case of COVID-19
*Probable Case:  A COVID-19 case that had exposure to a known confirmed case of COVID-19 and develops symptoms of COVID-19.
*Antibody Probable Case: Utilizing a FDA approved test that meet the clinical criteria (symptoms) or the epidemiology link (exposure to a positive case) to be classified as a case of COVID-19 by public health.
*Isolation:  Separates sick people with a contagious disease from people who are not sick until they meet the criteria for release
*Quarantine:  Separates and restricts the movement of people who were exposed to a contagious disease to see if they become sick during the incubation period of the disease
*All data is considered preliminary and subject to change.*
**Probable case counts include antibody IgG and IgM positive cases.  The date that COVID-19 antibody positive cases are reported to us may not accurately reflect the actual onset and period of illness. Not all antibody positive results will meet the criteria to be a case.**